Jerad & Peggy Higman, Owners
Jerad played football at the University of Nebraska and graduated in 1995 with a degree in mechanical engineering. He joined the family business, Masaba, and has been instrumental in developing it into an international contender in the aggregate and mining equipment industry.
A big believer in civic responsibility and giving back, Jerad is extremely active in the Vermillion community and Economic Development Initiatives. He is also a member of the University of South Dakota Foundation. Peggy is actively involved in the vision of the restaurant and is a certified yoga instructor.  Together they are busy raising their three children, Ava, Morgan and Ronan.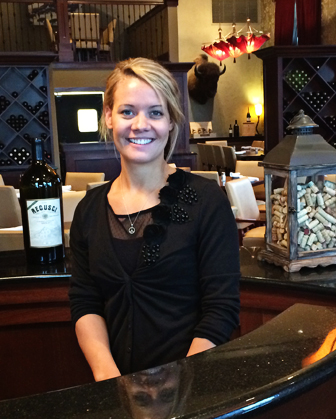 Emily Te Brink, Front of House Manager
Emily graduated from Central College with a degree in exercise science.  Emily has spent the last seven years in the business of customer service, and she continues to do so at RED.  As Front of House Manager, she oversees the serving staff, coordinates events, and makes certain that customers have a memorable dining experience.  
Andrew Duimstra, Chef
Andrew Duimstra attended Culinary School at Minneapolis Community and Technical  College. During that time, he trained at Solera, a four story, roof top dining, tapas restaurant, featuring classic and creative stylish Spanish Cuisine. Drew has 11 years in the service industry, working as a director of menu development and sous chef under many skilled chefs. His main goal in creation is learning the true origin of a cuisine before remastering it in order to truly understand the art of the flavor. Teaching his culinary team to pursue further and become the best is an ongoing achievement that is thrived for and accomplished everyday. With an open ear, he is always looking for new ideas, incentives, and perspectives on how to bring Red one step ahead in the modern culinary world.